Gold Coast Baby & Family Photographer
Unlike ANY other Gold Coast Photography Experience
You'll get to see ALL of your gorgeous photos from your session
Our studio is located in Helensvale on the Gold Coast. We are so excited for you to come in and experience having your maternity, newborn, older baby and outdoor sunset family photo sessions, we know you will adore all of your photographs, for decades to come.

🏆2021 Winner - #1 Newborn Photographer
Gold Coast

~

🏆2021 State Finalist -
Photography Business of the year

~

🏆2021 Ausmumpreneur Awards FINalist

~

🏆2020 Top 3 Photography Business
of the year Australia
Since 2013 I've poured almost my entire exsistence into what I truly believe is the most incredible maternity, baby & family photography experience available on the Gold Coast.
I love my clients reactions when they see their beautiful baby and family up on the big screen. It's that moment when they realise that having these photos taken was the best decision they had, and all of a sudden they understand that their photos are the most valuable possession they own.
How did you feel about your experience today?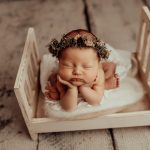 Videos to Watch - Georgii Condos Newborn &
Krystal Brant Family Outdoors
Book your Gold Coast Maternity, Newborn or Family photography experience today!