2021 winner Gc number one
newborn photographer
Such a huge achievement, and all thanks to my many happy clients for voting!
Please click this link to vote for 2022! CLICK HERE
I know the first few weeks as new parents is definitely a test. Perhaps you may be hesitant to book in before your baby is born. I understand it's the unknown of how mobile and active you could be in those first days and weeks. I always say that most of my clients enjoy the lights off and they have a nap on the couch. Enjoy the calm, I take care of everything, all you need to do is bring the milk and your baby should be nice and relaxed too, I'm told I'm the baby whisperer, and your doctors orders of rest when you can are definitely well adhered to during your baby's session.
The family portion of your newborn session is beautiful and relaxed, only takes around 15 minutes, and again you will not be doing poses that would cause any stress to your post baby body. If you can walk about 20 steps that's about as far as you need to go.
Don't worry about if your baby will be a star performer on the day. Your baby runs the show completely. I know how to work around all the different moments that your baby goes through during their day, to ensure you always get beautiful images to look back on.
I truly do love building a friendship with you. After all, you've chosen me to be in your first weeks of what I call the "newborn bubble". Usually I'm in that small bunch of the first people to hold your baby other then yourselves and your midwives, I take that as such an honour, so thank you! You'll probably feel like we've known each other for years, you will see, by your session you will probably be craving some human adult woman conversation, and I'm the same! So many of my clients have requested me to be there to photograph each of their babies, and to be there for every milestone years after.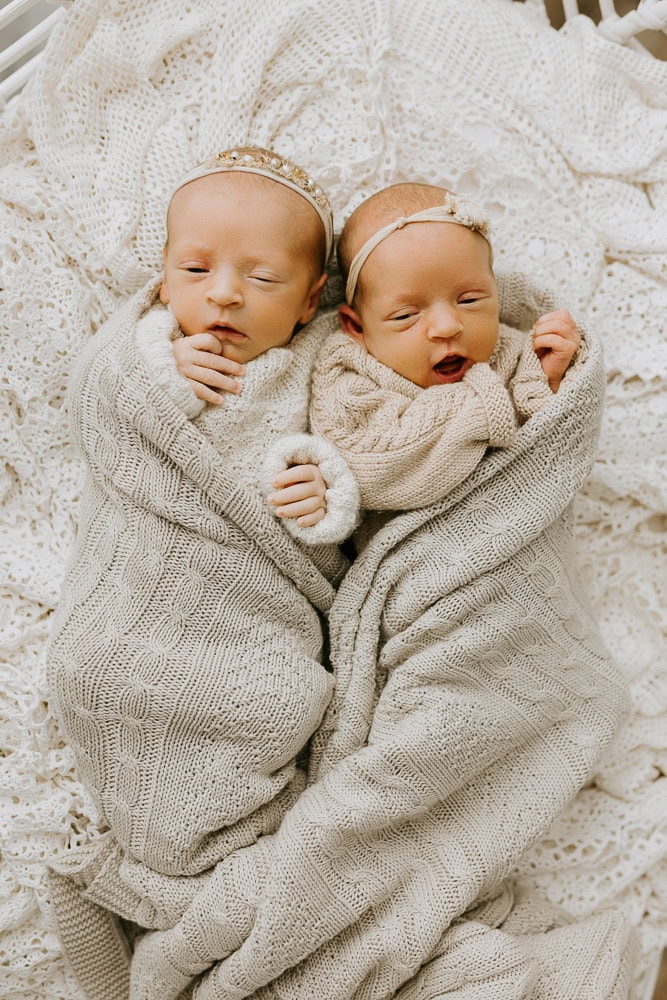 You should feel really comfortable at your session. You don't need to think about how you will pose or stand, that's my job. I'll guide you into flattering comfortable positions, and I work on and around a bed for these family moments so you can really relax, all you really need to do is bring the love. Just look at your baby, there you will feel it! 
Your baby will run the show, that's why I dedicate a few hours to make sure they're given the time they need to settle. I don't mind if they're awake the whole session, as long as they are comfortable, that is most important. 
Nestled on the Northern Gold Coast, is our home with dedicated Photography Studio.
Our studio is fully equiped with everything, coffee/tea, bottles & dummies, steriliser, powder room, two shooting rooms for a huge variety of different looks throughout your images. I have all the props,  you don't need to bring a thing. We also have Disney+, Foxtel & toys for your older kids and a huge tv for you to see your images in all of their glory.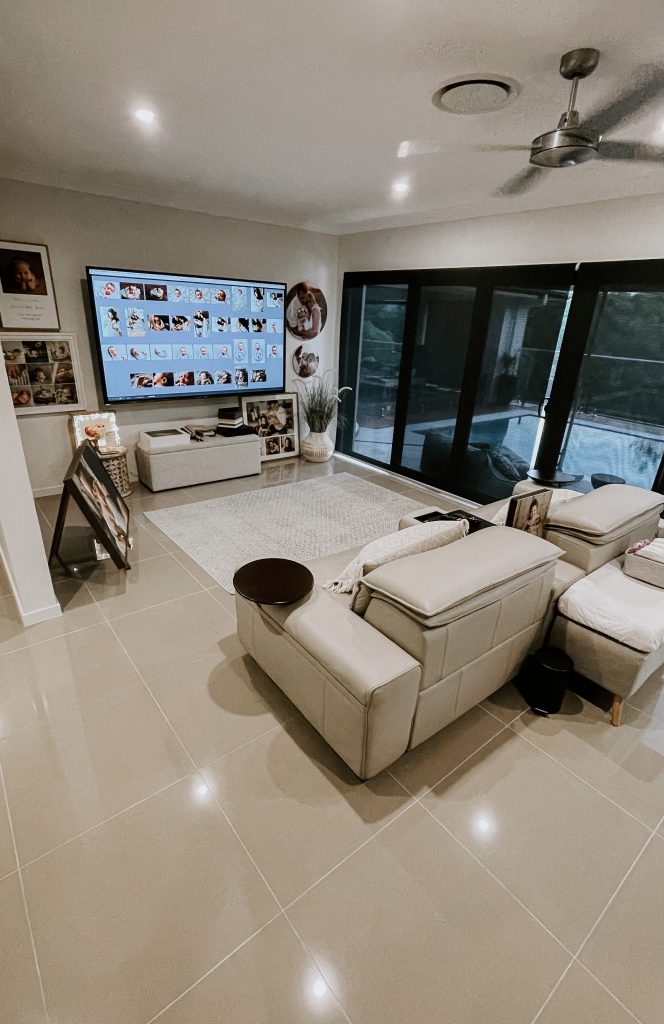 Don't worry about what you're going to wear ladies! We got you covered! 
Choose from over 30 different dresses and outfit looks in our very own client wardrobe. Each piece has been chosen with your post baby body in mind. 
We tend to dress most of the mums you see in our images. We really have thought of it all… You can choose your outfit on the day of your session
I provide all of babies outfits, wraps and headbands.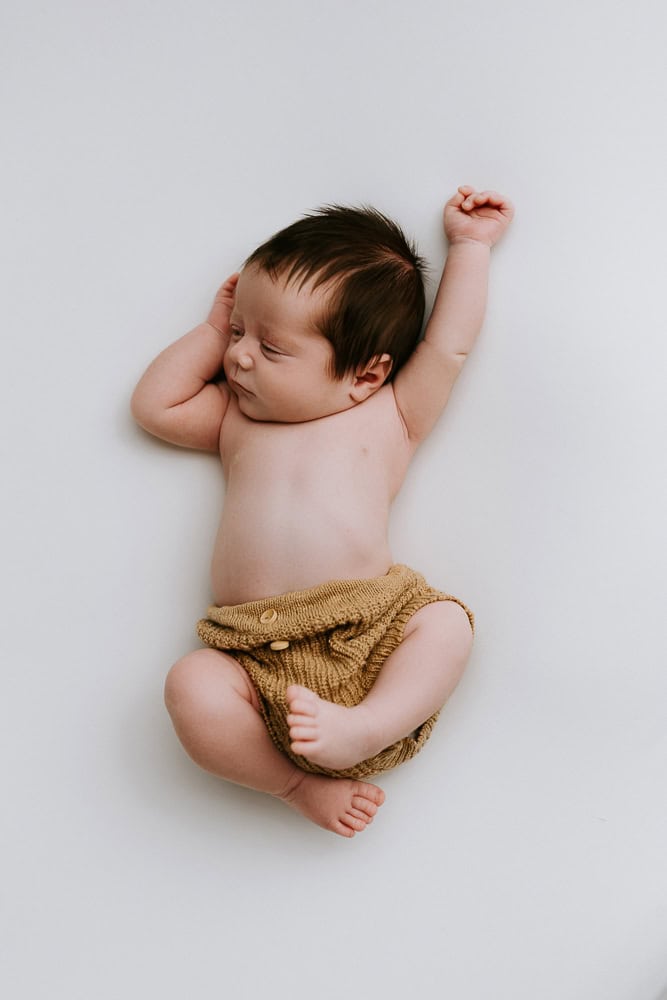 I had heard Tanha was the best in the biz for newborn photos, and she did not disappoint! In fact, it was an even better experience than I anticipated! Having only had my baby 8 days prior, I was both nervous about being in front of a camera, as well as having my baby in front of the camera and hoping she would be okay for the shoot. We ended up getting wall art and more photos than I thought I would want because they were all exceptional! Highly recommend and have already booked a family outdoor shoot later this year.
Safety trained through the academy of newborn photography
Choosing your Photographer to capture precious memories of your brand new baby can be extremely overwhelming! There are so many talented photographers and so many different packages and prices on offer.
You must make your first decision based off certification of safe baby posing, this is a non negotiable, your new baby is not a toy. Choose a professional. See the list of certified professional newborn photographers here- https://academyofnewbornphotography.com/certified-photographers
Style & quality over price
Fact! These photographs are going to be your most precious possession. I always say they will be the first sentimental thing you grab if you had to leave your house in a split second. You'll be looking back at that precious little face in these photos for the rest of your life, you'll remember those details from this exact moment in time, of your perfect baby that YOU made! 
Shop around, yes you'll find cheaper options, but the short term little annoyance of a little extra spent is long forgotten when you see the images I was able to capture. Imagine the life long pain some go through when they see their photos and can't find even one that's good enough to be framed. Your newborn is only a newborn for a few weeks so there's no re-do on this moment, it's just as time sensitive as a wedding day.
Yes, immediate family is included
I'm super passionate about you having photos with your baby at your newborn session. It's something that I deeply regret not doing with my babies. It's so amazing for your baby to have once they grow up, to be able to see their parents and siblings in their photos, to see how much they were loved from day one. I love to use props in your session, but nothing is more precious then baby in parents arms so you can look back and see just how tiny they really were, you just don't get the same perspective of your baby's size without family holding them. I also know how important it is for parents to see all the kids together in a set of photos that captures their personalities and to celebrate their newest family member.
Booking your newborn baby photography session, ahead of time is paramount. It ensures your precious baby can be scheduled into a date that suits you, and so that you don't miss out of capturing this divine time in their lives. To book in, all you need is an estimated due date, and to be a minimum of 12 weeks into your pregnancy. 
We book limited newborn sessions per month as we need to be able to move session dates as we anticipate their estimated birth date changing. This is expected so we appreciate when you book in way before your baby is born.
Once your spot is secured with the session fee, it can easily be moved. Just keep us updated and we will move the session to suit you.
Newborn session fees begin at $200 with digital packages from $795 & wall prints from $790.
Full Pricing Info in the menu above.
Lay-by Payment Plans available.